Date/Time
Date(s) - 11/21/18
12:00 am - 2:00 am
Location
Grand Stafford Theater
Categories No Categories
Dr. Paula deWitte's Digital Entrepreneurship class introduces Computer Science students to the concepts and practices of technology entrepreneurial thinking to develop and transition innovative software concepts and ideas into viable products.
Eight teams will be presenting their project.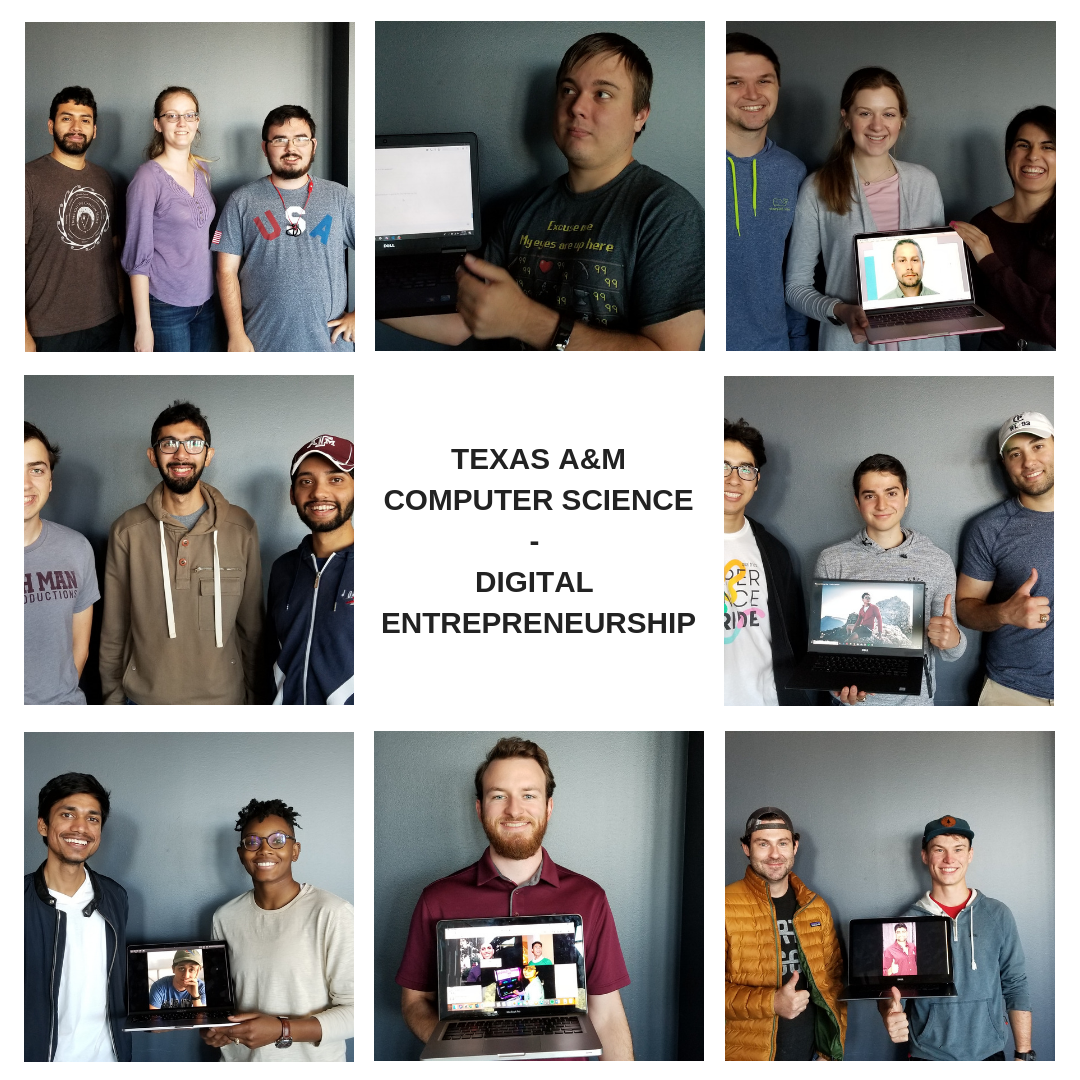 Team 1 – Amazing Travel
Sarra Bounouh, Hayley Eckert, William Newman, Lasse Starklit
Don't you agree that planning a trip can be costly and time-consuming? Amazing Travel is here to help you. After filling out a simple and quick survey, our website will recommend local destinations to visit in your chosen city, providing a personalized experience without the hassle.
Team 2 – IDLE
Julian Alvarez, Amir Karimloo, Jace Key, Julio Maldonado Guzman
Our Application will allow users to lend and borrow items by posting them online. Other users in the community can view those itemsand borrow them. The users will also be able to set the renting-price for their items and will be able to chat with their customers before completing the transaction.
Team 3 – Travelocal
Vinayak Chetlapalli, Jasmin Cho, Anthony Paulino, Ethan Wright
Often, when traveling in an unfamiliar city, the need for a tour guide may arise. Traditional tour guides can be expensive, difficult to work with your schedule, and unable to customize to your exact needs. With our product, users have access to a quick, affordable, and personalized tour guide service, led by a local of the area, right at their finger tips.
Team 4 – Fair Breeze
Patrick Condra, Aman Goyal, Courtney Walker
If you are attending or organizing a career fair then get the 'Fair Breeze' from the app store. It will make you more efficient and smart at the career fair. It provides company snapshots, digital resumes, and schedule appointments. "Fair Breeze" the tool to breeze through fairs.
Team 5 – Banano Empires
Jonathan Burk
Banano Empires is an online, multiplayer, persistent, browser based game that combines cryptocurrency and video games in an accessible, fun way. Players will create their galactic empires, trading, warring and pirating with other players. Long live the Banano Empire!
Team 6 – Team Litehouse
Jonathan Brosnan, Zachary Hudnall, Bishop Lopez, Rishub Mishra
In today's increasingly energy conscious world, people want more and more information on their energy usage. LiteHouse seeks to improve our consumers' ability to live an energy efficient life by giving real-time, easy to understand feedback on how they are consuming energy and how their alternative energy sources are performing. Help us keep your lights on, join LiteHouse!
Team 7 – Digital Hangar
Maxwell Melcher, Haaris Padela, Rishi Vaze
There are 150,000 general aviation aircrafts in the US and 80% of them are not hangered. It is often not by choice that planes are left un-hangared. The current process involves calling airport officials. It is frustrating and extremely inefficient. Our product, Digital Hangar, aims to streamline the hangar renting process. It is an online marketplace to connect renters and owners.
Team 8 – D.I.G.
Austin Dauzat, Sarah Lenox, Alexis Martinez
The 'Documentation Infographic Generator', or D.I.G., aims to make cybersecurity simple for people and businesses. Through a quick and easy survey, D.I.G. can create cybersecurity documents for a company along with helpful infographics to aid in understanding and remembering the key procedures